When trouble strikes the kingdom, how will you and your friends save the day? Through teamwork, that's for sure!
You and your friends are dinosaurs who are princesses solving problems together.
Decide what type of Dinosaur you are (a t-rex, ankylosaurs, or platypus perhaps!) and what type of Princess you are (maybe an aquanaut, zookeeper, or chef!).
Draw and colour your Dinosaur Princess.
Gather your friends, build up a group dice pool, and overcome all the obstacles and problems that the Palaeontologist throws your way!
Dinosaur Princesses is an ENnie award winning story game about of collaboration and cooperation for 2-5 players of all ages and all levels of roleplaying experience. Designed to be enjoyed by kids, kids and adults, or just adults. The only prerequisite is an imagination! We all remember a time when we loved dinosaurs… embrace it!
Dinosaur Princesses is available in print and PDF format at Indie Press Revolution and PDF format on DriveThruRPG!
Did we mention the rulebook is also a colouring book?
Check out the basic character sheets here!
Awards, Publicity and Reviews
2019 Silver ENnie award for Best Family Book
2019 ENnie nominee for Best Electronic Book
2019 ENnie nominee for Product of the Year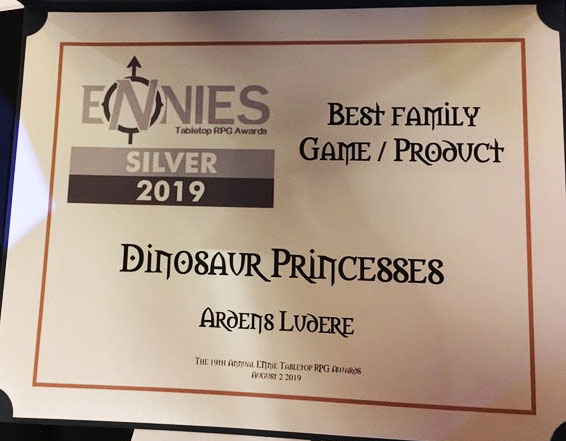 Find out more about Dinosaur Princesses by following these links:
Rob Abrazado, "The Indie Game Shelf: Dinosaur Princesses", Gnome Stew. (20 Dec 2019.)
Ben Riggs, Brad Davies, Sarah Babe. "Dinosaur Princesses- Ep. 164", Plot Points Podcast. (19 Oct, 2019).
Meghan Dornbrock, "Dana & Hamish Cameron are Dinosaur Princesses", +/- Modifier Podcast (13 Nov, 2018).
Rob Weiland, "Kids (and Grown-Ups) Get to Be Dinosaur Princesses in this RPG", Geek & Sundry. (8 Nov, 2018).
Raymond Cox, Dana & Hamish, "Dinosaur Princesses Interview" [Insert Quest Here] Podcast (29 Oct, 2018).
Brie Beau Sheldon, "Five or So Questions on Dinosaur Princesses", Thoughty. (25 Oct, 2018).
Kickstarter, Campaign Project Page, Oct-Nov 2018.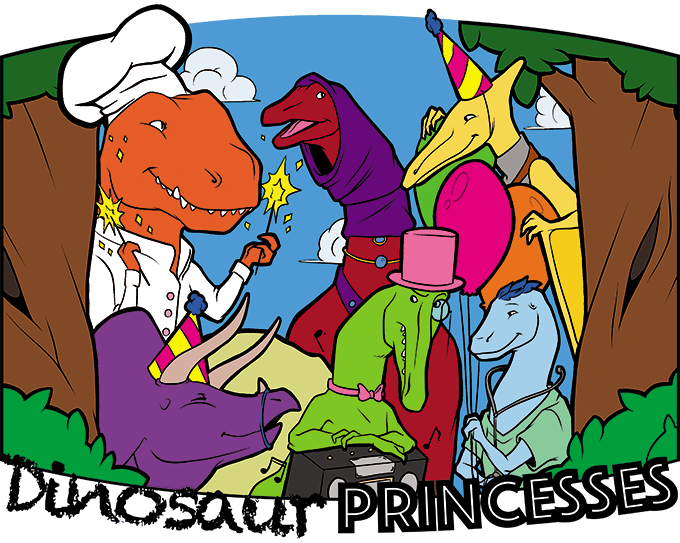 Get notified of future Kickstarters by Ardens Ludere by following Hamish: https://www.kickstarter.com/profile/ardensludere
Or keep an eye out on Twitter: @ArdensLudere  |  @peregrinekiwi  |  @DAYtheELF