Touched Prime is the second of a series of stand-alone settings introducing magic into the world of The Sprawl.
Spray your sprawl with rift energy and step into the magical world of corporate espionage.
"Two generations after the rifts opened, the majority of the world now accept common definitions of Troll-kin or Wild-kin based on physical and magical differences. However, what I find truly fascinating is the emergence of a sense of shared culture within these kin-groups; one that is deeply influenced by the historical culture of the individual or family unit but which is clearly cut through by a newly awakened sense of commonality and community. There is much we do not understand about the role of magic in transmitting knowledge and ways of knowing."
—Dr. Sara Abigail, Head of Kin Studies, University of Atlantis – Lake Eerie
It's 2050 and magic rules everything around you. Just kidding–cash still rules, but magic makes a great scapegoat.
Touched Prime is a cyberfantasy setting for The Sprawl. The rifts have been open for a couple of generations. The magic has seeped into the very fabric of humanity, splitting it into multiple kin groups: Dwarf-kin, Elf-kin, Human-kin, Troll-kin and Wild-kin. Magic has also been seamlessly absorbed into the corporate system–huge divisions and subsidiaries are devoted to exploiting the rifts and their magic. Down on the streets, magic users come in many forms: the highly educated Mages, the indebted Thrall and the warrior Adepts. Then there are the Horror Bane, normal folk scarred by a Horror whom they have sworn their lives to destroy.
Touched Prime is the second installment of the Touched settings, advancing the world established in
A Darkening Alley and putting magical abilities in the hands of the characters. All players choose a kin group and have access to four new playbooks: Adept, Horror Bane, Mage, and Thrall. Players may also choose the Antiquarian playbook from A Darkening Alley.
Take on the corps with powers from a magic dimension. Discover the learned craft of rift magic and the costly arts of fate manipulation. Sow the seeds of your game in this magical earth or plant them in the garden of your choosing. Your cyberfantastic dystopia awaits!
The cover art is a second piece by Toma Feizo Gas, creator of the cover from the main rulebook.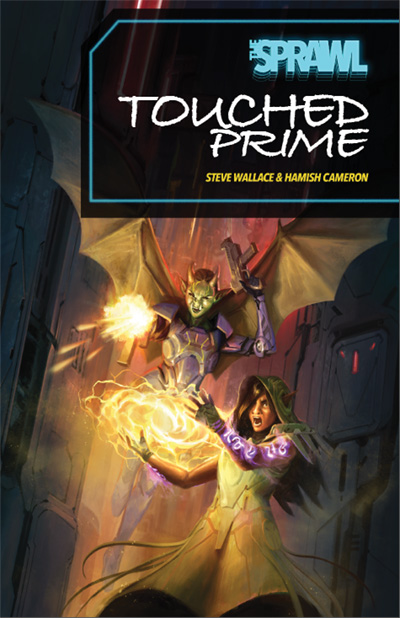 You can read about the production history and future of the Touched line in this backer update. In particular, there are no plans for a PoD version of this product, but it will eventually be included with other Touched products in a future combined PoD book.